Press Advisories
27. 5. 2013 23:45
Trade with Russia continues to grow
Prime Minister Petr Nečas has met in Moscow with his Russian counterpart Dimitri Medvedev. In the afternoon he then had a meeting with Russian President Vladimir Putin.


"I am extremely pleased that I have once more had the opportunity to meet Prime Minister Dimitri Medvedev. I last met him in December 2011 when he visited Prague as President of the Russian Federation", Prime Minister Petr Nečas told journalists following their meeting.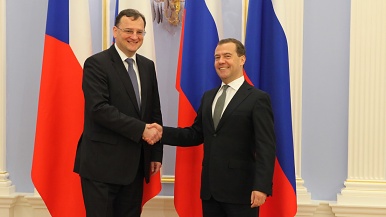 The Prime Minister also expressed his appreciation of good relations with Russia, which is a strategic partner both for the Czech Republic and for the European Union as a whole. The meeting with Prime Minister Medvedev mainly concerned economic cooperation and mutual trade, which continues to grow. "With the Prime Minister I was able to state that our trade relations are developing rapidly – last year our trade figures increased by almost 6%," Prime Minister Nečas confirmed.
In this regard the Prime Minister raised the partnership for modernisation established during Prime Minister Medvedev's visit to Prague in December 2011. This project is dedicated to developing economic projects which strengthen the competitiveness of both countries. At the same time the Prime Minister noted that the Czech Republic has provided long-term support for Russia's membership of the World Trade Organisation.
The energy issue was also discussed at the meeting. "I emphasised that the Czech Republic is eminently interested in the Druzhba oil pipeline being the main delivery route and being fully utilised," Prime Minister Nečas advised. For this reason there is a need to resolve the problems associated with reserving oil transport capacity.
The Czech Republic is also trying to increase the intensity of scientific collaboration and exchanges of students and academic specialists.
Agreements to be signed in engineering and power station technology
In the afternoon Prime Minister Nečas flew to Sochi where he had a meeting with President Vladimir Putin. At his residence he announced that during the visit several provisional agreements would be signed in engineering and hydro- and steam-gas power stations.