Press Advisories
28. 5. 2013 14:45
Prime Minister: Czech companies offer Western quality at Eastern prices
Today in St Petersburg Prime Minister Petr Nečas continued his visit to the Russian Federation. Following a conference on trade and economic collaboration the Prime Minister expressed his view on how Czech companies could make their mark in Russia. He also spoke about his meeting with President Vladimir Putin and Prime Minister Dimitri Medvedev and other topics.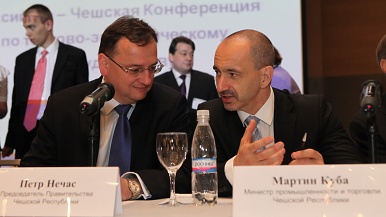 The Prime Minister considers it to be of great importance that the Czech Republic and Czech companies are promoting themselves in Russia with top-level technologies. "Here right in St Petersburg and the Leningrad region we are offering technologies for the construction of hydroelectric and gas-steam power stations, but also for waste water treatment, a very sophisticated and complex technology for one of the cities in the Leningrad area", the Prime Minister explained.
"The city in question is Kronshtadt, for which a specific project study has been prepared. There are also plans for the construction of shopping centres here in St Petersburg. We are trying to support Czech companies simply because they traditionally have a good name in Russia and are able to offer a good price vs. quality trade-off. Put simply, we have Western quality and Eastern prices and for us that opens up a genuinely large space for developing economic collaboration", the Prime Minister added.
With President Putin discussions were about more than just Temelín
At yesterday's meeting with President Vladimir Putin and Prime Minister Dimitri Medvedev the completion of the Temelín nuclear power station was not the main topic. "Of course we also discussed the Temelín project, but we discussed the overall state of Czech-Russian economic relations. Beginning with energy, oil and gas supplies and including specific business projects in engineering, transport, metallurgy and so on. President Putin and Prime Minister Medvedev expressed their great appreciation for the fact that we are also dealing with the Russian regions, that we have not hesitated in going outside Moscow with our government and business delegations", the Prime Minister added.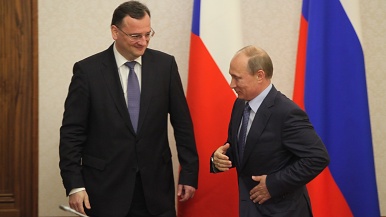 Prime Minister supports human rights activities in Russia
In addition to economic collaboration, the Prime Minister also said something about the meeting he supported with non-governmental organisations. "I also had a meeting with representatives of non-governmental organisations such as Golos, which does a lot for the independence of elections. These really are people who deserve our support at the level of political representatives", says Prime Minister Nečas.
In his statement to journalists the Prime Minister also referred to the distortion of his words about the Pussy Riot band by Radio Freedom. "I consider this entirely improper. We have therefore published a complete transcript and sound recording of what I actually said, including the sentence saying that I consider their sentence excessive and inappropriate", the Prime Minister stated, and adding: "Nevertheless I stand by what I said, that in what they did I personally do not see, and have no reason to see, any expression of the fight for freedom and democracy. Within Russia other activities are deserving of greater support in respect of the defence of human rights and the building of democracy."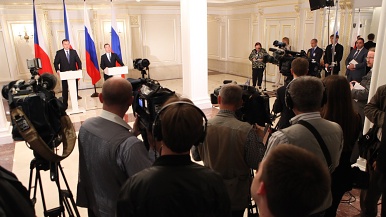 Prime Minister: I have asked for help in the case of the abduction of Anička Hromádková
In addition to economic and human rights topics the Prime Minister also referred to the case of Anička Hromádková, abducted to Russia by her mother in 2008. "I have to say that I informed Prime Minister Medvedev of this issue and asked him for his help in resolving it. I emphasised that we are not only politicians, but that our work also has a human dimension to it; I requested that the Russian authorities as a first step at least allow the father to have contact with his daughter", the Prime Minister said.
According to Prime Minister Nečas the reaction to this was positive. "I am conscious of this human dimension to our political activities. But of course we all know that these matters lie in the jurisdiction of independent courts, so that the options of a political representative are sometimes limited. In spite of this Prime Minister Medvedev reacted very positively to this", the Prime Minister concluded.