Press Advisories
12. 7. 2013 10:39
New ministers took office
After Wednesday's naming of the cabinet by the president, Premier Jiří Rusnok named the new ministers to their posts. These thus took charge of their individual ministries.


Prior to handing over their offices to the named ministers, the new cabinet met for a first short meeting, during which it primarily dealt with organizational matters, the cabinet's procedural rules or the date of the cabinet's next meeting.
On Wednesday Premier Rusnok then also officially named both deputy premiers, Jan Fischer and Martin Pecina, who have been entrusted with the ministries of Finance and of the Interior, respectively. Jiří Cienciala then took over the Ministry of Industry and Trade, and Jan Kohout took charge of the Ministry of Foreign Affairs. Vlastimil Picek remained minister of defence.
On Thursday afternoon, the premier completed the handover of ministries to nine ministers. The Ministry of Education went to Dalibor Štys, Culture to Jiří Balvín, and Labour and Social Affairs to František Koníček. Martin Holcát took over the Ministry of Health, Tomáš Podivínský Environment, and Miroslav Toman Agriculture. The ministries of Transport and Regional Development will not be headed by Zdeněk Žák and František Lukl, respectively. The new minister of justice, chair of the government's Legislative Council and at the same time the only woman in the cabinet, is Marie Benešová.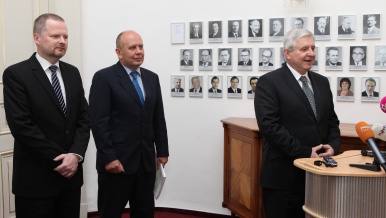 Government priorities
At the same time, members of Jiří Rusnok's cabinet indicated some of their priorities.
The minister of finance wants to focus on reviving the Czech economy. "I consider restarting growth in the Czech Republic to be key," said Jan Fischer. Tax collection should be improved as well.
The minister of industry and trade said his main priority would be the energy industry. "Everything flows from this, and especially what is at the end – competitiveness," explained Jiří Cienciala at the press conference.
Minister of the Interior Martin Pecina plans to increase the number of police as well as their salaries. Newly hired guardians of the law could for example be assigned to North Bohemia.
Minister of Foreign Affairs Jan Kohout intends to emphasize pro-export policy. He is also preparing to address unoccupied embassy posts.
Minister of Defence Vlastimil Picek will present the cabinet with a proposal for further lease of Gripen fighter jets.