Petr Fiala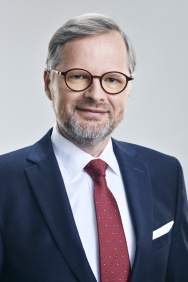 Prime Minister
He graduated from the University of Brno (1983–1988) with a degree in Czech language and history, after which he worked as a historian in a museum. In the nineteen eighties he was involved in independent civic activities against the communist dictatorship. After November 1989 he founded the field of political science. The positions he has held since then include head of the Department of Political Science (1993–2002) and the Department of International Relations and European Studies (2002–2004), director of the International Institute of Political Science (1996–2004), director of the Institute for Comparative Political Research (2005–2011) and the dean of the Faculty of Social Studies at Masaryk University (2004).
As rector he served two terms as head of Masaryk University (2004–2011), which during that time became the most popular Czech university and one of Central Europe's leading educational and research institutions. For many years he has worked for institutions and bodies focusing on university education and research in the Czech Republic and abroad, and was also the chair of the Czech Rectors' Conference (2009–2011). He has held a number of public and professional offices, including, for example, membership of the Board of the Institute for the Study of Totalitarian Regimes, the Accreditation Commission, the vice-chairmanship of the Research, Development and Innovation Council, and served as the chief scientific adviser to the Prime Minister. In his scientific work he specialises in comparative political science, European politics and conservative political thinking. He is the author of more than 20 books and 300 professional studies published in the Czech Republic and abroad.
In 2012–2013 he was Minister of Education in Petr Nečas's government; he succeeded in bringing stability to the department and his conceptual and convincing work quickly won him the trust of the general public.
In October 2013 he was a non-partisan candidate for the South Moravian ODS and was elected as a member of parliament. He joined ODS on 7 November 2013, and was elected party leader in January 2014. He retained his leadership in January 2016, 2018 and 2020. In October 2017 he was the ODS nationwide and South Moravian leader in the elections, in which ODS became the second strongest political party. In November of the same year he was elected Deputy Speaker of the Chamber of Deputies of the Parliament of the Czech Republic. In autumn 2020 he became the nationwide leader of the newly formed electoral coalition SPOLU (ODS, KDU-ČSL, TOP 09). In October 2021 the SPOLU coalition won the parliamentary elections with a percentage of 27.8 %. He was appointed Prime Minister on 28 November 2021. Members of his Government were appointed on 17 December 2021.
Personal Details
prof. PhDr. Petr Fiala, Ph.D., LL.M., born 1 September 1964 in Brno, married, with three children
Education
1988: Mgr. (Czech Language and Literature, History), Faculty of Arts of UJEP (MU) in Brno
1989: PhDr. (History), Faculty of Arts of Masaryk University
1996: Ph.D. (Political Science), Faculty of Arts of Masaryk University
1996: Associate Professor of Political Science, Faculty of Social Sciences of Charles University in Prague
2002: Professor of Political Science, Masaryk University
2008: LL.M. (Corporate Law), Nottingham Trent University/Faculty of Law of Masaryk University
Career and Public Service
1988–1989: Historian, Museum of Kroměříž
1990–1991: Editor, Lidová demokracie, published by Atlantis
1990–1991: Assistant, Department of Economics and Political Science, Faculty of Arts of Masaryk University
1991–1993: Assistant Professor, Department of Political Science, Faculty of Arts of Masaryk University
1993–2002: Head of Department of Political Science, Faculty of Social Studies (until 1997, Faculty of Arts) of Masaryk University
1996–2004: Director, International Institute of Political Science of Masaryk University
from 2002: Professor (2002-2004 head), Department of International Relations and European Studies, Faculty of Social Studies of Masaryk University
2004–2011: Director, Institute for Comparative Political Research, Faculty of Social Studies of Masaryk University
2004: Dean, Faculty of Social Studies of Masaryk University
2004–2011: Rector, Masaryk University
2011–2012: Chief Scientific Adviser to the Prime Minister, Office of the Government of the Czech Republic
2012–2013: Minister of Education, Youth and Sportssince 2013 Member of Parliament (2017–2021 Deputy Speaker), Chamber of Deputies of the Parliament of the Czech Republic
Personal website and social media
twitter.com/P_Fiala
facebook.com/petr.fiala1964
https://pfiala.cz