Andrej Babiš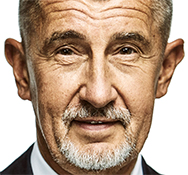 From 6 December 2017, Prime Minister of the Czech Republic, from 24 January 2018 in resignation. On 6 June 2018, he was reappointed and charged with forming new Government, from 11 November 2021 in resignation.
Personal data
Ing. Andrej Babiš was born on 2 September 1954 in Bratislava. He is married and has four children.
Education
He graduated from the University of Economics in Bratislava.
Professional career
In 1993, he founded Agrofert, currently the largest Czech agricultural, food and chemical holding, which he owned in 100%.
In 2016, despite the President's veto, an amendment was approved to the Act on Conflict of Interests, nicknamed also Lex Babiš, which forbids government officials from possessing media and receiving State subsidies through their companies. In 2017, therefore, Andrej Babiš transferred all the assets of his firms to two trust funds.
Public activity
In the autumn of 2011, Andrej Babiš spoke in the media about system corruption that has grown through public administration. His speech attracted the response of thousands of citizens and gave a spontaneous rise to the initiative Action for Dissatisfied Citizens. Based on their requirements, a Call was compiled, summarising the key ideas that lent content to the ANO association which was established subsequently in November 2011. As the number of supporters grew, voices were heard, recommending its direct involvement in politics. In May, it was registered as a political movement that can take part in democratic parliamentary elections. It received nearly a million votes in the early election in 2013, which was the highest number for a new political entity in the history of the Czech Republic. The next, regular election to the House of Deputies in 2017 was won by ANO with more than 1.5 million votes.
In 2016, Andrej Babiš was awarded as the Minister of Finance of the Year for the area of developing European economies.
Language skills
He speaks English, French, German and Russian.
Personal website
Twitter: twitter.com/AndrejBabis
Facebook: facebook.com/AndrejBabis