Interviews - Online
Post your questions for Ondřej Liška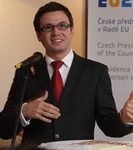 Czech Minister of Education, Youth and Sports Ondřej Liška will answer your questions on Friday, 19 Febuary at 12:00 online in the European chat. You can start posting your questions concerning education and the European Year of Creativity and Innovation several hours in advance. After the chat is closed, the most interesting questions and answers from both language versions will be published in the 'News and Documents' section on www.eu2009.cz. The chat is conducted simultaneously in two language versions – in Czech for the local public and in English for readers abroad. Czech and English questions appear only in their respective language versions. To read all the questions answered by the Minister, open both chat versions.
Questions and Answers
Agus R. Rahman

, 19. 2. 2009, 6:10
How do you increase quality of higher education, especially at university, in your country in respect to European education standar?

responded to, 19. 2. 2009, 13:03
We are currently preparing the reform of tertiary education in the Czech Republic. We introduced the so called White Book on Tertiary Education and once the reform process is approved by the legislative process, important changes can be implemented. We believe these steps will substantially increase the quality of the higher education. By midst of 2010 we predict a visible impact and improvement in the field of higher education in the Czech Republic.

Lajos Bacz

, 19. 2. 2009, 8:25
Dear Mr Minister, what does it mean that we have a "European Year of Creativity and Innovation"? Does it have any practical meaning and a real effect on our lives? Thank you.

responded to, 19. 2. 2009, 12:42
The tradition of thematic European year is of course of symbolic manner. If we want to increase and support the innovative and creative capacity of European citizens, we must to work on these issues continuously. Thus, this year gives us the opportunity to link various events, initiatives and legal procedures to make these values more visible and strengthen them in a sustainable manner within our policies. See more at http://www.msmt.cz/eu-presidency-2009/the-european-year-of-creativity-and-innovation

B. A. Hecht

, 19. 2. 2009, 8:33
Hello Mr. Minister: 1) What percentage of Czech GDP goes to education? And how much goes for defence? 2) Also, I have read that you and your Green Party are against the construction of a U.S. radar station in Czechia. Do you not think that it would make Europe a safer place? Have you discussed this issue with your European colleagues?

responded to, 19. 2. 2009, 12:29
1) To Education goes 4,6% GDP. Defence 1,43% GDP. 2) To be frank, the Greens in the Czech Republic do not have a common stand on this issue. Me personally and part of the Green party hesitates to agree with this project under current circumstances. A part of Greens rejects this project generally, part of the Greens, including me, says that since the US missile shield project is not integrated into multilateral security architecture, brings more tension than security and has not been even proven to be operating and functional, there is not a sufficient reason to ratify the treaty. And part of the Greens just supports this project because they believe it is important to strengthen the security ties with the US. You see, it is a difficult debate. The Greens in the European Parliament reject the US missile shield generally. I believe that there are also other and maybe more important ways to strengthen our transatlantic security. The position of Barrack Obama administration will be also for me an important point in my decision, once it comes to the ratification.

Mikko

, 19. 2. 2009, 8:12
Dear Mr Liska, are you happy that your House of Representatives ratified the Lisbon Treaty yesterday? Do you personally find any negative features in the treaty? Do you think that your Senate and President will ratify it as well?

responded to, 19. 2. 2009, 12:15
Of course, I am very happy :). However, the upper chamber of the Czech Parliament, the Senate, still has to ratify. Significant part of the Czech Senators condition the ratification of the Lisbon treaty by ratification of the treaty with the USA on the missile defense shield. Hence, the internal situation in the Czech Republic will still have to develop and the final date of ratification of Lisbon is still unsure, especially due to the president Klaus, who signaled that even if both chambers ratify, he might not sign it. To my mind, the Treaty has a weakness that it doesn't go far enough and had to give up some of the former Treaty on Constitution for Europe. Well, Lisbon is a bearable compromise.

Alex Sepic

, 19. 2. 2009, 7:49
Dear Mr. Minister, what can the EU do in order to become an equal oponent to the United States in the field of research at universities and other research facilities? A lot of people who want to do serious research in medicine, biology, chemistry, etc. leave Europe and go to the USA. What can the EU do to make them stay? Will there be some coordinated all-European research programmes?

responded to, 19. 2. 2009, 12:06
I do not think we should become opponents, rather competitive to the non-EU universities and science. The EU's priority in this respect is definitely a more coordinated approach in strengthening tertiary education and innovation capacity. It cannot be dine by a single legislative act or one initiative. We must continue in building a common area of European research (Ljubljana process) and establishing the European Higher Education Area. One aspect of this, the enhanced partnership between the sphere of education and business, is one of the priorities of the Czech Presidency. Instead of brain drain we must achieve the brain gain. Thus, all we do must be - in its complexity – relevant to the conditions in which European scientists and students pursue their research and studies.