Press Advisories
11. 11. 2010 12:34
We support the European common market, prime minister says
European Commissioner Michel Barnier speaks with Czech Prime Minister Petr Nečas on the future of the European Union's internal market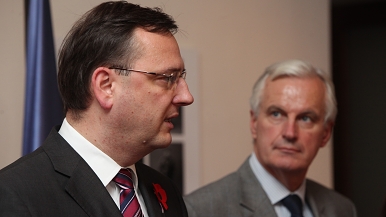 "We unambiguously support the European Commission's initiative, which will lead to the possibility of having a real market of goods and services, and consider it to be a positive step. Of course on a whole range of specific elements, there are issues where the Czech Republic also has its priorities, or on the other hand there are issues where we would not rather not do things," Prime Minister Nečas said after the meeting.
At the meeting, the prime minister set the Czech Republic's priorities in the area of the internal market with regard to the European Commission's October statement altering the area of the internal market, and whose ambition is the preparation of additional steps leading to a revival of the EU market in the next two years.
"It is not enough only to regulate and oversee financial markets and services, but also to build competitiveness and growth, and for this reason I also spoke with the prime minister on the renewal of the internal market in the direction of companies and citizens, so that growth and greater competitiveness occurs," said Barnier, the European commissioner for the internal market and services.