Press Advisories
17. 9. 2010 13:21
The Czech Republic still has a chance to win the Galileo system headquarters
Prime Minister Petr Nečas met with the President of the European Council, Herman Van Rompuy.


The Galileo navigation system is to be based in one of the new European Union Member States and, of these, the Czech Republic is probably the one with the best chance. "President Van Rompuy unequivocally expressed his support for the view that the seats of European institutions should be located in the new EU Member States. I should like to emphasise that we have been working continuously towards locating this system in our country since 2006 and have not seriously applied for any other institution, so we shall continue to be extremely active in this area," said the Czech Prime Minister after the meeting, adding that the Czech Republic already has reasonably strong support among member countries.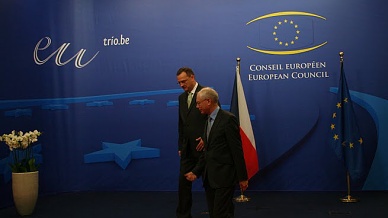 Petr Nečas also asked the European President for support from the European institutions in abolishing the requirement of Canadian visas for Czech citizens. "The fourth working meeting of the Czech-Canadian group is due to take place in September and we expect the European Union to exert greater pressure, because the introduction of visas for citizens of certain European Union Member States de facto means dividing the EU and its citizens into two categories – into a first and a second class," added the Prime Minister. According to him, Herman Van Rompuy is prepared to increase the pressure on the Canadian side, along with the European Union institutions.

Today's meeting with the President of the European Council concluded the three-day foreign trip of the Prime Minister, Petr Nečas, to Brussels. During this visit the Prime Minister introduced himself as the new Czech prime minister and attended a series of bilateral meetings. He met the President of the European Commission, the British prime minister, the President of the European Parliament and the Secretary General of NATO.