Press Advisories
5. 11. 2012 17:53
The Czech Republic is developing trade with Serbia and supporting its path to the EU
On Monday 5 November, Czech Prime Minister Petr Nečas received Ivan Mrkić, the Minister of Foreign Affairs of the Republic of Serbia.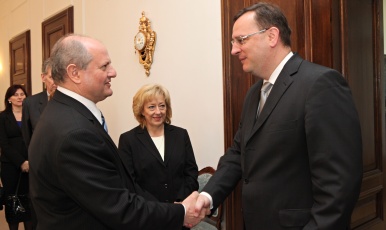 The main topics of their talks were economic cooperation between the two countries and Serbia's candidacy for membership of the European Union. Prime Minister Nečas stressed that the Czech Republic had supported the granting of candidate status to Serbia by the European Council in March 2012, and assured Minister Mrkić that EU enlargement embracing the countries of the Western Balkans would remain one of the priorities of Czech foreign policy. He offered to share the Czech Republic's experience of preparing for EU membership with the Serbian Government, and to continue cooperation as it made arrangements for the necessary reforms. Minister Mrkić voiced his appreciation of the Czech Republic's long-standing support of Serbia's efforts to integrate into the EU.
Prime Minister Nečas and Minister Mrkić also confirmed their respective countries' interest in the further consolidation of economic cooperation. Czech companies are involved in numerous transport infrastructure projects in Serbia and are traditional suppliers of vehicles. Another sector important for mutual cooperation is energy, including the construction of hydro-electric power stations. Further prospects for future business development exist in the development cooperation that the Czech Republic has long provided to Serbia. In this respect, Czech experts have implemented many projects covering areas such as the waste water processing, drinking water supply and ecological heating systems.