Press Advisories
27. 9. 2012 17:00
Spirits with clear origins can go back on sale
Spirits produced before 1st January 2012, as well those granted a certificate of origin, may go back on sale. This applies the government regulation and the Ministry of Health's contingency measures. (REGULATION ENCLOSED)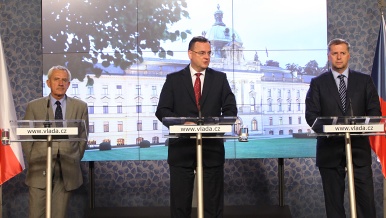 At its Wednesday session, the Government relaxed its ban on the consumption of spirits. It adopted a government regulation which establishes a certificate of origin for spirits. For all spirits with an ethanol content higher than 20% and manufactured since January 2012, producers in the Czech Republic will have to affix a so-called "pedigree sticker". The form is available in the attached government regulation.
"It will be a requirement to document the alcohol's origins and attach a test certificate from an accredited laboratory for ethanol content, methanol content and the presence of the most common residues of the denaturing agent", said Prime Minister Petr Nečas.
For any stocks of spirits produced during 2012, retailers must obtain documentation on the spirits' origins from their supplier. If they fail to do this within 60 days, they will have to destroy their stocks in a manner consistent with the Waste Act.
"In the event that any spirits must be destroyed, and the undamaged duty labels are retained as well as legal proofs of purchase, then the Ministry of Finance will determine what retailers must do to request a refund of duty already paid. The state will recover this duty the next time a bottle of spirits is sold", explained Minister of Health Leoš Heger.
According to the Minister there is one exception to cover high-value spirits - the owner of an establishment may have the contents of an already opened bottle tested at his or her own expense. If the presence of methyl alcohol or any impurities is disproved, the owner will receive a certificate and may then continue to sell the alcohol.
Spirits produced after today's announcement will have new security strips and will be provided with documentation demonstrating the origin of the alcohol. Alcohol so documented can be legally sold and offered to the public.