Press Advisories
14. 9. 2010 12:58
Saxony, Poland and the Czech Republic to request funds to repair flood damage
A trilateral application for support from EU funds will soon find its way to the European Commission according to the Czech Prime Minister and the Minister-President of Saxony at a briefing.


The total cost of the summer floods in Saxony, Poland and the Czech Republic is rising above CZK 21 billion, which is the minimum amount for such an application to be made. "We want to jointly apply to the European Commission for these funds to remove the damage caused by the floods. We are ready to negotiate with the European Union in this way," said the Czech Prime Minister Petr Nečas after the meeting.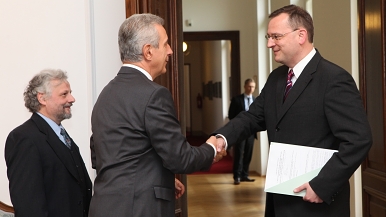 "Here the point is also to show that a Europe without borders is not only talk, and we expect the European Commission to embrace this idea. We want to show that Europe helps is members," added Minister-President of Saxony Stanislav Tillich.

The heads of the two countries also talked about the development of transport infrastructure and the Berlin – Dresden – Prague motorway and railway connections. They also talked about the energy sector and projects to connect gas and oil pipelines, or the energy mix which has a high representation of brown coal in the two countries.
"I also mentioned a problem that the Czech public is very much aware of, namely the border checks in Saxony and Bavaria. It is in our joint interest to resolve this issue through intensive mutual police cooperation and cooperation between judicial bodies," Nečas said. According to Tillich, citizens are very sensitive regarding this issue and the common focus of the two countries must be in particular the fight against criminality.

Petr Nečas also received an invitation to Dresden for the Czech-German Days. "I am proud to be able to say to you today that 18 years after we set up the Czech-German grammar school in Pirna, today 2,500 people are learning Czech in Saxony. Therefore I believe that we will soon be able to communicate without interpreters," said the Minister-President of Saxony, who speaks Czech and at the press conference did not need a German interpreter.