Press Advisories
16. 4. 2009 15:30
Prime Minister Topolánek presents the rebuilt Beneš villa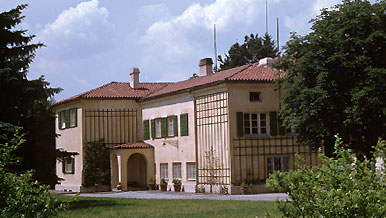 The Sezimově Ústí residence of the Office of the Government, reconstructed at the instructions of Prime Minister Mirek Topolánek's cabinet, will be open to the public from the end of May.


The Beneš villa will serve as representative facilities for meetings of the cabinet and the Prime Minister, but also as a memorial to Hana and Eduard Beneš.
"The facilities have been restored to their original state and it is my wish that the legacy of Hana and Eduard Beneš be fulfilled, that the building be returned to the nation - it may sound like just a phrase, but we really do wish, and have done everything, to have the villa open to visitors," said outgoing Prime Minister Topolánek of the rebuilt villa, when showing the first visitors around.
Since 2006, during extensive reconstruction, the exterior of the building and the formal function rooms have been repaired. The villa thus now corresponds more closely to the original design of architect Petr Kropáček who had the building constructed from 1930-1931. Over these three years the Office of the Government has paid just under 20 million CZK for the rebuilding work.
In the 1930s the commission from the Beneš couple was to build a house reminiscent of a rural building in southern France, with airy rooms as well as smooth walls and a low roof. In 1937 the Beneš family decided to extend the villa. In line with a design by architect Otokar Fierlinger a new wing with a salla terrena was built on to the north-west façade, and the terrace in front of the south-west frontage was shaded by a bow-shaped loggia. The living and service quarters in the two-storey house were divided into two decorated wings.
In November 1973 Hana Benešová wrote a will in which she bequeathed the villa and its grounds and part of the contents to the Museum of the Hussite Revolution in Tábor. Following her death, the property was taken over in 1975 by the local town council in Tábor. At the end of 1975 the contents of the villa were moved into storage and the house signed over as the property of the Office of Government of Czechoslovakia.
The ceremonial opening of the Beneš villa will take place on 28th May on the 125th anniversary of Eduard Beneš's birth. The villa will then be open to the public on 30th and 31st May and then throughout the summer on the last weekend in every month from 10.00am to 5.00pm, with a guided tour.