Press Advisories
7. 9. 2011 17:37
Prime Minister Petr Nečas: We want a NATO that is active, not reactive
North Atlantic Treaty Organization General Secretary Anders Fogh Rasmussen met with Prime Minister Petr Nečas.


The meeting's topics included Czech defence policy issues and the transformation of the Czech army currently underway. "I informed the Secretary General that the Czech Republic and the government I lead have set cutting the state deficit as their priority. I assured him that the Czech Republic would not be a free rider in NATO," Nečas said at a press conference.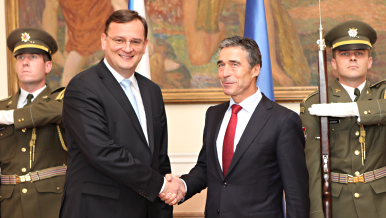 "We also support the 'smart defence' initiative for multinational cooperation on defence projects, where resources can be saved through mutual synergies, and where we can get more defence capabilities for less money," Nečas added.
"At a time of saving resources, every euro, every crown counts. We will have to find ways to share our sources so as to give our alliance the capabilities it needs," Rasmussen said.
The prime minister and the NATO secretary general also discussed preparations for the next NATO Summit, which will take place next May in Chicago, and which will focus on current and long-term challenges. "I would like to express my appreciation for the secretary general's leading role and reform efforts, which are constantly encouraging the Alliance toward further transformation so that it is able to react to new security challenges. Our clear common interest: We want an active, not a reactive NATO," the prime minister added.
"I hope that we will also be able to announce the combat readiness of NATO's anti-missile defence, as well as the creation of two operational centers as part of our cooperation with Russia, which will help us deal with new threats," the secretary general added.
Current NATO operations were also a topic of the meeting. The prime minister assured the secretary general that the Czech Republic will be a reliable ally, and will maintain all of its commitments to missions such as those in Afghanistan. According to Nečas, the Czech Republic will continue to concentrate on exercise activities and assistance in building out Afghan security forces, both in the army and police.
Rasmussen has visited Prague as NATO secretary general for the second time; his first visit to the Czech Republic was last March.