Press Advisories
16. 9. 2010 14:32
Prime Minister Petr Nečas opens visit to Brussels by meeting Barroso
Petr Nečas commenced his first visit to Brussels in the role of Prime Minister with a meeting with the President of the European Commission José Manuel Barroso.


"We agreed that Europe needs greater fiscal discipline," said Prime Minister Petr Nečas after the meeting. He also spoke alone with the President of the European Commission about the Czech position on sanctions for countries that will not comply with accepted budget rules. He also mentioned the visas for Czech citizens travelling to Canada.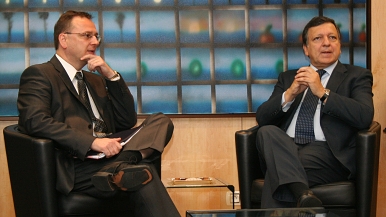 At a joint press conference later Petr Nečas stated: "Our people must not be second-class citizens. I appreciate the fact that the European Commission has heard our call and is active."

After his meeting with the President of the European Commission, Petr Nečas also met the Commissioner for Economic and Monetary Affairs, Olli Rehn. In an interview with him Petr Nečas presented the Czech government's reform plans as well as the parameters of the budget policy for the coming year. He emphasised that the Czech Republic is for the automatic use of the widest possible range of sanctions and tools against states that gamble with their own budgets and do not respect the stipulated rules.

Petr Nečas also expressed an unequivocally negative opinion as regards the bank tax: "We are concerned that its introduction could lead only to an increase in banks' moral hazard as they would get a new cushion in the form of insurance. In the end the increased costs would be reflected in the prices of bank products for investors," Petr Nečas said.

Economic relations with Germany were also assessed. The Czech economy is strongly export-focused and Germany is a pivotal market for it. "With a touch of exaggeration it is possible to say that when the German economy sneezes the Czech economy catches a cold. Our economic cycles are really very similar," Petr Nečas said.