Press Advisories
17. 5. 2012 19:26
Prime Minister: Israel is our key partner in the Middle East
Prime Minister Petr Nečas today held talks with his Israeli counterpart, Benjamin Netanyahu. Members of both countries' governments then participated in a joint meeting.


"We have assured the Israeli delegation of our support for Israel. We support the development of relations between our two countries, as well as relations between the EU and the State of Israel, which we believe are highly beneficial to both parties," remarked Prime Minister Petr Nečas after the meeting.
"We categorically reject the de-legitimization and any boycott of Israel. We unequivocally support Israel's right to defend itself against terrorist attacks. Together we share the global concern about Iran's nuclear programme," said the Czech prime minister.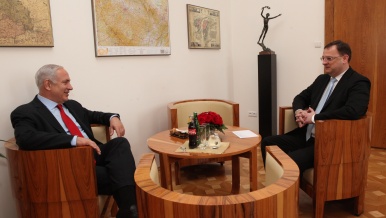 Israeli Prime Minister Benjamin Netanyahu welcomed the Czech stance, noting that few nations are able to understand that only a secure Israel can achieve peace. "Israel has no better friend in Europe than the Czech Republic. The friendship between the Czech people and the Jewish people goes back a thousand years. We are both ancient nations, we value our past and cherish our values, but we also want to seize the future," said the Israeli prime minister.
"Regarding the Israeli-Palestinian conflict, we believe that lasting peace can only be achieved if both parties negotiate directly. The Czech Republic does not back unilateral actions, which have no contribution to make to the peace process. A stable solution must be based on the principle of two states that are borne of the right of the Jewish and Palestinian people to self-determination and that will live side by side in peace," said Prime Minister Nečas.
Czech Republic and Israel cooperate on science and research
The joint meeting of the Czech Republic and the State of Israel, the first of its kind, was organized following an invitation extended by Czech Prime Minister Petr Nečas to the Israelis during his visit to Israel last September. The main topics of discussion included mutual economic relations, culture and mutual cooperation in education and research and development. "We want to share with you our high technology, but also learn from you, your vocational training, your industrial design and see how you are progressing in these areas," said Netanyahu.
A central theme of the talks was reciprocal trade and economic relations, which have evolved and grown significantly from the perspective of both exports and imports since the independence of the Czech Republic. Mutual trade turnover has registered strong expansion in the past few years in particular. Last year, for example, there was a 10% increase on 2010.
Israel has long been the Czech Republic's most important partner in the Middle East. By total volume of Czech exports, it is fifth among non-European countries.
Another matter discussed today was research and development cooperation, which has also been on the agenda of the two prime ministers' previous meetings. A subject of particular interest is the ministerial agreement on the Gesher/Most Programme, signed by the education ministers on a previous occasion. Under this programme, Czech and Israeli companies are able to cooperate on research projects and experimental developments for commercial use.
At today's meeting, the two countries' prime ministers signed a joint statement confirming the friendship and historical partnership between the Czech Republic and the State of Israel, their lasting reciprocal support, mutual respect for the sovereign status of the two countries and recognition of the common political, defence and economic needs of both countries.
At the post-meeting press conference, foreign ministers Karel Schwarzenberg and Avigdor Lieberman signed a joint declaration aimed at extending and deepening dialogue between the two countries. This document will form the basis, among other things, of regular meetings of foreign policy and security experts and researchers.
Other agreements signed between the Czech Republic and the State of Israel also concerned arrangements ensuring wider access to the Czech-Israeli transport market, greater air transport flexibility and themes touching on restoration, reconstruction and affordable housing. The education ministers also agreed on joint Czech-Israeli projects on basic research in neurodegenerative diseases and advanced programming.
The Israeli prime minister brought seven Israeli government ministers with him for the talks with their Czech counterparts. Foreign minister Avigdor Lieberman, industry minister Shalom Simhon, science and technology minister Daniel Hershkowitz, social affairs and communications minister Moshe Kahlon, transport minister Israel Katz, construction minister Ariel Atias and cultural and sports minister Limor Livnat came to Prague, where they also held separate bilateral meetings with their Czech ministerial counterparts.
The Czech delegation, headed by Prime Minister Petr Nečas, was represented at the joint meeting of the Czech and Israeli governments by foreign minister Karel Schwarzenberg, industry and trade minister Martin Kuba, education minister Petr Fiala, labour minister Jaromír Drábek, transport minister Pavel Dobeš, regional development minister Kamil Jankovský and culture minister Alena Hanáková.
Selection from photo gallery
---