Press Advisories
8. 10. 2012 14:38
Prime Minister: Europe and America must remove trade barriers
Europe and America are now faced with a common challenge – to remove remaining trade barriers. We share the same civilization, said Prime Minister Petr Nečas today at a speech delivered to the conference USA and European Union Days.


In his address at Žofín Palace in Prague today, Prime Minister Petr Nečas called for the establishment of a transatlantic zone, the interlinking of free trade between the European Union and the North American free trade zone. He noted that this transatlantic free trade area should have been created long ago. "It is not too late to establish TAFTA, and I think that it is entirely realistic to aspire to its creation by the end of this decade," stressed the Prime Minister.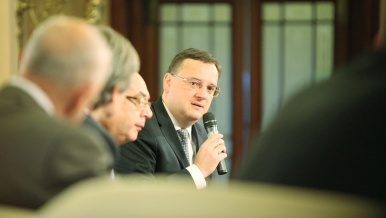 The remaining barriers and obstacles to trade and movement between Europe and America should be torn down according to the Prime Minister. "Removing the remaining economic and trade barriers would serve our ideals and our interests well," he said at today's conference. "Our common heritage and goal is freedom, including economic freedom, and freedom of trade and business," recalled Prime Minister Petr Nečas.
Europe and America share the same values
The Prime Minister said that America and Europe are two parts of one common Western civilization. "Although we live on different continents, we share the same civilization," he noted. In his speech, Petr Nečas said that this alliance was based on the same values and was politically manifested by a love of liberty and the defence thereof. "There are many great reasons to maintain, deepen and strengthen this alliance, not only for us, but also in the interests of other peace- and freedom-loving countries," he added.
Prime Minister Petr Nečas singled out the expected rise of new political and military powers, and above all economic powers, as one of the reasons to reinforce cooperation between Europe and America. "I am convinced that, in terms of trade cooperation, the US and the European Union must be the drivers of world trade liberalization," said the Prime Minister.
A particular common challenge to be faced by both America and Europe should now the huge deficits of public budgets. According to the Czech Prime Minister, we should therefore be aiming to steer our countries back to fiscal responsibility and balanced public budgets. "This is not only a political and economic necessity, but also, as I have mentioned, a moral imperative," declared the Prime Minister.
The transatlantic conference USA and European Union Days, organized this year under the auspices of Prime Minister Petr Nečas, has been held since 2002 and regularly hosts a number of important guests. It mainly addresses the importance of Atlantic ties between the United States and the European Union, the importance of political, military and economic relations, and also the crisis of the European Monetary System, the euro, the debt crisis, and current issues of economic and political life in the USA.
Selection from photo gallery
---