Press Advisories
5. 10. 2012 20:15
Prime Minister: EU funds should promote growth
Prime Minister Petr Nečas, along with representatives from a further fifteen countries, met in Bratislava to discuss the future of the European funds.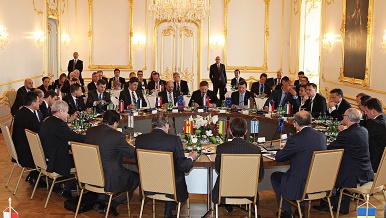 "It was a meeting of countries that have a strong interest in Cohesion Policy, a policy requiring efficient utilization of the European funds," Prime Minister Petr Nečas said after the meeting. "We believe it is extremely important that the Cohesion Policy – resources from the European funds – be channelled primarily into the promotion of economic growth and into the keener competitiveness of the EU, including the Czech Republic," added the Prime Minister.
Fifteen representatives of European countries, together with Croatia, adopted a joint declaration underpinning their intention to train the spotlight on the Cohesion Policy. "We do not want a situation where it is restricted to the poorer regions and poorer Member States of the European Union. We want it to be focused on encouraging the competitiveness of economic growth," said the Prime Minister.
These states also backed common conclusions which are technical in nature and have budgetary implications, such as the deductibility of VAT in the uptake of EU funds.
The objective pursued by the second meeting of the Friends of Cohesion at the level of prime ministers, organized by Slovakia (the previous meeting was organized by Romania), was to reiterate support for a strong and effective Cohesion Policy in the next multiannual financial framework (MFF) for 2014–2020.
In the 2007–2013 period, the Structural Funds under the Cohesion Policy (the European Regional Development Fund [ERDF] and the European Social Fund [ESF]) and the Cohesion Fund (CF) have contributed significantly to economic growth and to increased competitiveness across the EU. Every year, investments made possible by the Cohesion Policy have accounted for approximately 40% of capital spending by governments in the 12 new EU Member States. In the Czech Republic alone, investments facilitated by the Cohesion Policy represent about one per cent of gross domestic product.

Selection from photo gallery
---