Press Advisories
10. 4. 2013 19:08
Prime Minister: Collaboration with Korean Air is a step in the right direction
Prime Minister Petr Nečas and Finance Minister Miloslav Kalousek today signed a contract selling a package of 44 per cent of the shares of Czech Airlines to Korean Air. This strategic investor will pay 68 million CZK for its minority stake in Czech Airlines.


Following today's contract signing Prime Minister Nečas stated that this is the culmination of a search for a strategic partner for ČSA. "I am pleased that the government has approved the sale of a 44 per cent share to Korean Air. We came to the conclusion that collaboration with this prestigious carrier is the right step for the future of ČSA", the Prime Minister said.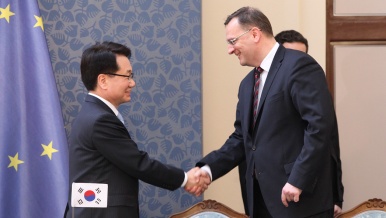 Petr Nečas also referred to the impact on the development of trade between the two countries: "This collaboration between the two companies is also logical in view of long-term collaboration with Václav Havel Airport. Korean Air has operated a route between Soul and Prague for some years now, which also means an improved environment for South Korean investors in the Czech Republic, something we greatly welcome", added the Prime Minister.
President of Korean Air Chang Hoon Chi, who took part in today's contract signing on the Korean side, noted that this is an important moment in the development of both airlines. "We are very pleased to be part of this moment. Czech Airlines is a company with a long tradition and a solid European network. We have maintained commercial relations with ČSA for over ten years now. Our two companies will become strategic partners, which will be to everyone's advantage. I would like to thank Prime Minister Nečas for his support."
Korean Air Lines is the private national carrier and the largest airline in South Korea. It operates regular routes to 105 international and 13 domestic destinations. In 2011 its services were used by more than 23 million passengers. It is Korean Air's intention to make Prague one of its European air hubs. As part of this strategy ČSA will provide carriage of its passengers in Europe. This is linked also to the development plans of Václav Havel Airport to be an efficient and competitive transfer hub. The investor also wants to help with the growth of long-distance carriage within ČSA.
Selection from photo gallery
---