Press Advisories
20. 12. 2010 11:36
Petr Nečas Meets With Bavarian Premier Seehofer
Horst Seehofer is on a historic first visit to the Czech Republic


After their meeting, both premiers commented positively on the deepening of relations between both states. Bavaria is, among other things, an important trade partner for the Czech Republic. "30 % of all exports to Germany make their way to Bavaria. At the same time, EUR 4.5 billion in investment has come from Bavaria to the Czech Republic," Nečas said after their meeting.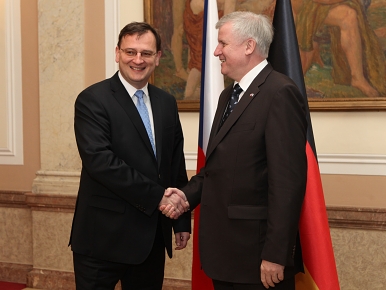 Bavarian Premier Seehofer marked today's talks as the first step toward beginning a new stage in mutual relations. Bavarian premiers have historically been the patrons of Sudeten Germans. Both premiers agreed that relations between both states are now oriented toward the future. "Differing views exist on our past, but what clearly exists is a bilateral will to orient relations toward the future," Nečas said, commenting on both states' relations on a historical level.
Aside from trade and economic cooperation, Bavaria and the Czech Republic also take part in a number of activities in the areas of local government, education and culture. A compendium of current and planned activities can be found in the joint communique of both premiers attached here.
Border inspections of Czech drivers by German police was also a topic of the talks. Seehofer offered to establish joint patrols on the German side as a possible solution for introducing trust. The Bavarian and Czech interior ministers should meet to discuss this proposal.
As evidence of their good relations, Nečas received an invitation from Seehofer to visit Bavaria.