Press Advisories
5. 1. 2011 16:31
Nečas Government Approves Anti-Corruption Strategy
Members of the cabinet agreed on five points to be modified further and approve in two weeks.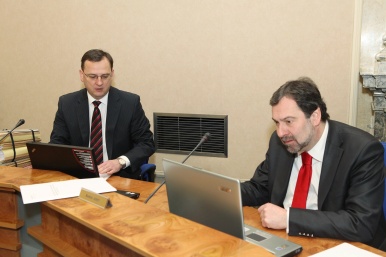 "The vote was unanimous. All members of the government supported this document," Prime Minister Petr Nečas said. The government also established a working group made up of the First Deputy Prime Minister and Interior Minister Radek John, Justice Minister Jiří Pospíšil and Finance Minister Miroslav Kalousek. The working group will amend the formulation of the five points and present them to the government for definitive approval in two weeks.
"We are also speeding up preparations for the new public contracts law. It will go to inter-ministerial consultation proceedings on 31 March of this year. Furthermore, a proposed law on the Police General Inspectorate will be presented by 30 June," the prime minister said, detailing the government's agreement on its anti-corruption strategy.
"I'm glad that the agreement, which relates to the police's ability to look into tax returns, has definitively stabilised," the prime minister said. The agreement is that there will be one specialised center as part of the Police Presidium, which will be the only one authorised to have access to this information.
A refinement of the institute of the cooperating defendant is among the five points which the working group will amend to its final form. The government's cabinet agreed that only the courts can decide on these matters. "The courts should take into account that a defendant who ends up in court helped to reveal organised crime or criminal activity. In such cases, where the courts would find the defendant guilty, there would be the possibility of not handing down a sentence," the prime minister said. The aforementioned three-member group is in charge of refining this mechanism according to the Rules of Criminal Procedure and the criminal code.
Further activites include incorporating the proposals of the National Economic Council and American Chamber of Commerce into changes in the public contracts law. The government also wants to find a mechanism to prevent the misuse of rules for handling communities' and regions' assets. The possibility of tax drain for assets from so-called illegitimate sources should also be made more specific.
The last of the points for alteration by the three-member team will be a decision on the possible establishment of a central bank accounts registry. "There is a valid argument that those who carrying out dirty tricks would be motivated to establish foreign accounts, and the result could be that absolutely decent citizens would be in the state-managed registry," Nečas said.