Press Advisories
22. 5. 2012 19:18
NATO's Future Lies in the Specialization of Individual Member Countries
The sharing of allied defense resources and the withdrawal of troops from Afghanistan were the two main topics of the NATO Chicago Summit attended by Prime Minister Petr Nečas.


To increase the effect of defense expenditures, NATO will pay closer attention to the sharing of defense resources. This is one of the outcomes of NATO's Chicago summit. According to Nečas, each of the small and medium-sized member countries must specialize in a specific area. "A greater emphasis must be put on the sharing of resources, country-to-country cooperation, and the creation of joint projects based on specific priorities," said the prime minister after the summit.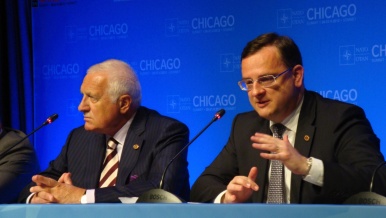 The Czech Republic is active in pursuing the smart defense concept. Apart from setting up a multinational aviation training center, the country has for some time been taking part in air policing in the Baltic countries. "This is a direction small and medium-sized NATO countries should pursue, including greater resource sharing and finding areas where particular countries have more extensive resources and expertise allowing them to assume greater responsibility," added Nečas.
NATO Troops to Withdraw by 2014
A considerable part of the summit was dedicated to issues related to Afghanistan. NATO's objectives in Afghanistan are formally outlined in the summit's Declaration, which describes the transition of security responsibility to Afghan authorities by the mid-2013 as an "irreversible" process.
NATO will gradually transfer security responsibility to Afghan forces, as allied troops are scheduled to withdraw from the country by the end of 2014. "The Czech Republic has indicated its willingness to take part in the process referred to as 'Afghanistan 2014',"said President Václav Klaus who headed the Czech delegation at the summit.
At all meetings, Czech delegates also emphasized the Czech Republic's support for the Open Door policy aimed at a further enlargement of NATO. "We mainly regard NATO's enlargement as an expansion of the zone of stability, security, and prosperity as well as a strong motivating element for candidate countries to continue reforms that will make them ready for NATO membership," explained the Czech prime minister.
The NATO Chicago Summit was held during 20-21 May 2012. The Czech Republic was represented by President Václav Klaus, Primer Minister Petr Nečas, First Deputy Prime Minister and Minister of Foreign Affairs Karel Schwarzenberg, and Minister of Defense Alexandr Vondra.
Selection from photo gallery
---