Press Advisories
25. 3. 2015 23:12
Ministers' participation in the Council of the EU increases year-to-year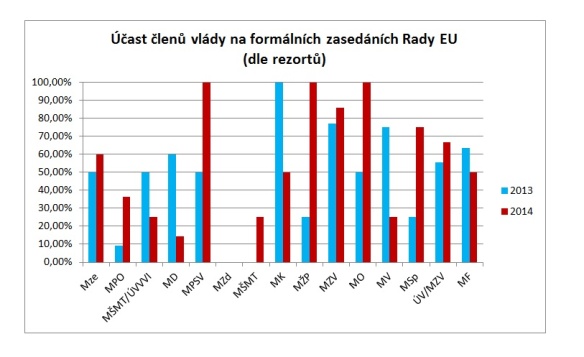 Today as part of their European agenda, the cabinet addressed ministers' participation in meetings of the Council of the EU during the governing coalition's term so far. The cabinet managed after nearly five years to reverse the trend and increase the representation of Czech ministers in Brussels at regular meetings. Prime Minister Bohuslav Sobotka also appealed to individual ministers to attempt to increase their participation in joint meetings with European partners in subsequent periods.


It is apparent from an analysis that the Government Office has conducted in cooperation with individual ministries that during the first year of Prime Minister Bohuslav Sobotka's cabinet, ministers' participation in meetings of the Council of the EU has increased in nine cabinet ministries. This is a key agenda for the current cabinet's work, which is the responsibility of the Ministry of Labour and Social Affairs, the Ministry of Foreign Affairs, the Ministry of Industry and Trade, the Ministry of Defence, the Ministry of Agriculture, the Ministry of Environment and the Ministry of Justice.
Labour and Social Affairs Minister Michaela Marksová, Environment Minister Richard Brabec and Defence Minister Martin Stropnický have participated in 100% of the formal meetings of the Council of the EU. The most formal Council meetings have been attended during the government's first year by Foreign Minister Lumobír Zaorálek, who has attended twelve.
"In its thirteen months in office, the government has managed to fulfil its obligations and promote a pro-European policy, and therefore I consider the participation in the meetings of the Council of the EU as part of each cabinet member's work duties. Therefore, at today's cabinet meeting I asked all members of the cabinet to get involved personally and as intensively as possible in the European agenda. It is important both for them to participate in Council meetings and to develop bilateral contacts with government colleagues from other countries," Prime Minister Sobotka said.
FOR YOUR INFORMATION:
The Council of the EU is a body that represents member states' governments. It is comprised of ministers from all member states, who agree on specific political steps related to the areas of their ministries' activities. Each member state is represented in the Council by a single member, usually a minister. Formally there is one Council, but due to the various discussed agendas, the Council has 10 basic formations.