Press Advisories
21. 1. 2019 17:38
Milena Hrdinková, the new State Secretary for European Affairs, will take office on 1st February
Milena Hrdinková will become the new State Secretary for European Affairs. Prime Minister Andrej Babiš announced it to his colleagues in the Government on Monday, 21 January 2019.


Milena Hrdinková will become the Deputy Director managing the Section of European Affairs of the Office of the Government and take office as the State Secretary for EU Affairs with effect from 1 February 2019. From this date, she will also represent the Czech Government at preparatory meetings in Brussels. She was selected for the post in a proper selection procedure in accordance with the Civil Service Act.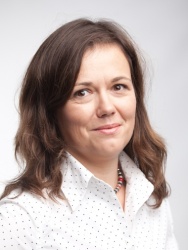 "I see the role of the Deputy Director for managing the Section for European Affairs on several levels", said Milena Hrdinková. "First of all, I have to guarantee perfect service for the Prime Minister in his role as the Czech Republic's top representative in the EU structures and member of the European Council. It is necessary to build good and productive relations with counterparts from other states and EU institutions and to offer cooperation to other ministries in resolving overlapping agendas so that the Czech Republic's positions are always consistent and comprehensible. Work on positive communication on the European agenda is also very important. I would like everyone to see the EU as an extraordinary project, which we have the honour to be part of and whose success we should contribute to as much as possible", she added.
Milena Hrdinková has been working in public administration since 1998. She has been continually focusing on international relations and EU issues. She also represented the Czech Republic in EU bodies and other international institutions, she contributed to the implementation of EU law into the Czech law before the accession of the Czech Republic to the EU, she worked as a national expert in the European Commission and chaired the Council Working Group during the Czech Presidency of the EU Council. Until last year, she served as the Head of the Office of the Minister at the Ministry of Finance. She has legal education, speaks English, French and Russian.