Press Advisories
1. 11. 2012 15:37
India open for business with Czech companies
On Thursday 1 November, Czech Prime Minister Petr Nečas received Mrs Preneet Kaur, India's Minister of State for External Affairs.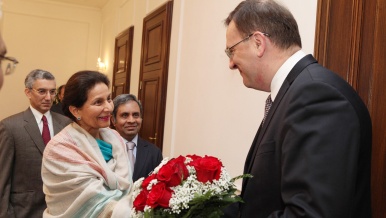 During their meeting, Prime Minister Petr Nečas and Minister of State Preneet Kaur chiefly discussed opportunities to deepen existing trade. In the coming years, India plans to increase investment in the development of its infrastructure, with the chance for Czech companies to become involved.
Mutual interest in cooperation is also manifested by the contact established at trade fairs. India was the partner country of this year's International Engineering Fair in Brno; in return, the Czech Republic will be the main guest at India's largest engineering trade fair in Mumbai in 2013.
Other topics of conversation were the progress in academic exchanges, cultural relations and cooperation in the defence industry.
Exports to India are a priority for the Czech Republic
India is one of the Czech Republic's most important trade partners in Asia. It also plays a prominent role from the global perspective, figuring among the top twelve priority countries for Czech exports.
Czech-Indian trade relations have a tradition dating back to pre-war Czechoslovakia, when the main export products were machine-tools. The Bata brand also became known in India after the Czech footwear company built shoe factories in the region.
During the last fifty years, Czech companies have made approximately a hundred capital equipment deliveries to India which, in many cases, have led to the emergence of new Indian industries, such as the manufacture of tractors, steam turbines, industrial boilers and motorcycles, and the establishment of engineering metallurgy plants. Traditionally, Czech companies have also supplied India with diesel generators, machine-tools, textile machinery, printing machinery, and food-processing technology.
In India, the Czech Republic is also associated with the traditional Škoda brand. In the past, this brand was mainly linked to the heavy engineering industry, but in recent times Škoda cars have become the best-known product on the Indian market. The rapid export growth following the launch of sales of the Škoda Octavia, assembled locally in Aurangabad, ten years ago was a turning point in the development of external trade between the two countries.