Press Advisories
17. 4. 2012 18:08
Czech Republic to expand economic cooperation with Macedonia
Czech firms could construct a tram transport system in Skopje, railway corridors or explore mineral wealth in Macedonia.


"Our mutual economic relations are showing a growth tendency in spite of the crisis. We are interested in strengthening cooperation in trade and investment, because we consider the Western Balkans region to be traditional space for Czech firms," said Czech Prime Minister Petr Nečas after his meeting with Macedonian Prime Minister, Nikola Gruevski.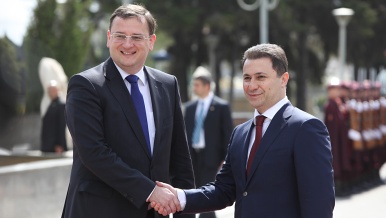 "Economic cooperation is currently growing. For example, our mutual trade doubled in volume between 2010 and 2011. Both countries must work to find opportunities to further expand their cooperation," the Macedonian Prime Minister added.
According to Prime Minister Petr Nečas, Czech firms are interested in participating, for example, in a tender to introduce tram transport in Skopje, where a 12km line should be constructed. The project, worth EUR 155 million, should include an order for 22 trams.
The Czech Prime Minister also sees space for cooperation in the construction of railway corridors between Bulgaria, Macedonia and Albania. In addition to this, Czech firms could also become involved in the construction of an irrigation system in the lower reaches of the Vardar River, the construction of hydroelectric power plants, the protection of water sources or the exploration of mineral wealth.
The Czech Republic has expanded cooperation with Macedonia in health and transport
During an official visit, the Czech Republic and the Republic of Macedonia signed an agreement on cooperation in the health and medical science sectors. The two countries will thus also exchange experience and information, for example in scientific/research activities or the drug policy.
The Ministers of Transport also signed an agreement on international road transportation, which will regulate passenger and freight transport between the Czech Republic and Macedonia. The agreement stipulates the obligations of forwarders and sanctions in the event of their breach.
Prime Minister: We support the accession of the Republic of Macedonia to the EU and NATO
According to the Czech Prime Minister, the Czech Republic has long supported the Euro-Atlantic integration of Macedonia. "Expanding the European Union to include Western Balkans countries is our foreign policy and economic priority. We are ready to support this process, which we see as the best route towards stability and prosperity for the whole region, to the maximum possible extent," Petr Nečas said.
Minister of Industry and Trade Martin Kuba and Transport Minister Pavel Dobeš also travelled to Macedonia together with the Prime Minister. The delegation also included fifteen representatives of Czech firms interested in expanding economic cooperation in the Western Balkans.
Selection from photo gallery
---