Press Advisories
10. 10. 2012 18:46
Czech Republic and Germany share interest in eurozone stabilization
Prime Minister Petr Nečas has met with German President Joachim Gauck who paid his first working visit to the Czech Republic on 10 October 2012.


The main topics discussed during their meeting in the Lichtenstein Palace included the development of cooperation and mutual relations between the Czech Republic and Germany and the current situation in the European Union and the euro area.
Premier Nečas mentioned the close ties between the Czech economy and the economies of eurozone countries, emphasizing the Czech Republic's interest in resolving the current problems surrounding the euro. He said that the Czech government understands the need of euro-area countries to intensify the coordination of budgetary policies and would not prevent their deeper integration. The Czech Republic, however, insists that the internal market must not be disrupted.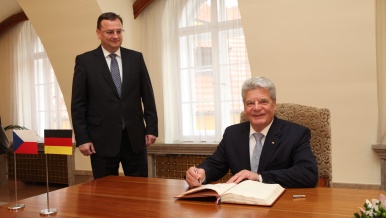 The Czech prime minister and the German president concurred that both countries share the same standpoint as regards the need to consolidate the budget of EU Member States. According to Premier Nečas, not only is it necessary to reduce expenditures, but it is also essential to take measures to improve European competitiveness and economic growth.
Other issues discussed during the meeting included the Czech Republic economic relations with Germany and its individual federal states. Germany is the Czech Republic's most important trading partner. Trade between the two countries follows a continuously growing trend.
Prime Minister Nečas also praised German President Joachim Gauck for his stance regarding the 70th anniversary of the annihilation of the villages of Lidice and Ležáky. The German president has sent the Czech head of state a letter in which he stated that the German people will never forget the two massacres, that the reminiscence of Lidice and Ležáky "makes him deeply saddened and ashamed", and that "Germany is aware of its historic responsibility".
Selection from photo gallery
---