Press Advisories
17. 12. 2012 21:19
Czech companies build Serbian power plants
Prime Minister Petr Nečas has visited Serbia and met its leaders. They discussed Czech investment in the development of transport, energy and the environment.


"Serbia is an important partner in the Western Balkans. It is one of the twelve priority countries on which we are keen to focus, as evidenced by the large business delegation accompanying us," said Prime Minister Petr Nečas during talks with his Serbian counterpart. The Minister of Industry and Trade, Martin Kuba, joined him on the trip.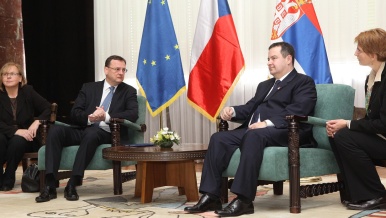 One example of successful Czech investments in Serbia is the tyre manufacturing plant in the town of Ruma. Other successful projects are the construction of the Bancarevo motorway tunnel and the modernization and electrification of Railway Corridor 10 in the section from Niš to Dimitrovgrad. Czech companies are also interested in cooperation in the field of motorway infrastructure.
"The importance of relations with Serbia for the Czech Republic can also be seen in the long-term implementation of development cooperation projects in Serbia. The Czech Republic contributes approximately EUR 1.5 million a year to Czech-Serbian development cooperation projects," said Prime Minister Petr Nečas. In this area, our support focuses primarily on health, the environment, energy savings, and small and medium-sized enterprises.
Czech suppliers are currently negotiating a project to expand a mine and build a power plant in Štavalj. In the near future, the construction of six small hydropower plants at various locations in Serbia is to be launched. Czech companies are also experienced in green technology.
Serbian Prime Minister Ivica Dačić said that he was very pleased about the major opportunities for mutual business cooperation. "In the European Union, you are one of our closest partners. You can count on Serbia's support if you need to," said the Serbian Prime Minister, noting that he valued the Czech Republic's support for the integration of Serbia into the European Union.
During the Czech delegation's visit to Serbia, representatives of the two countries signed two documents – an implementing protocol to the agreement on the readmission of persons residing without authorization and a new bilateral agreement on international road transport.
The Agreement between the European Community and the Republic of Serbia on the readmission of persons residing without authorization ("readmission agreement") entered into force in 2008. The implementing protocol expands on the details of the agreement, including border crossings, emergency procedure, interviewing and deadlines.
During his visit, Prime Minister Petr Nečas also met the President of Serbia, Tomislav Nikolić, and the President of the National Assembly, Nebojša Stefanović, and, at the end of the day, he attended the close of a Czech-Serbian business forum.