Press Advisories
13. 11. 2012 21:35
Czech and German cooperation in economic and European issues
The Czech Prime Minister Petr Nečas and the President of the Bundestag, Norbert Lammert, have discussed European issues, economic relations and energy.


In the context of European policy, the Czech Prime Minister stressed that the Czech Republic and Germany share the same view of the need for fiscal responsibility.
In the field of energy, the Prime Minister and the President of the Bundestag discussed the overflow of electricity produced from renewable energy sources in Germany. Prime Minister Petr Nečas noted that this threatened the stability and security of the Czech transmission network and thus greatly increased the risk of serious blackout throughout the region. He suggested that a long-term solution would be the construction of sufficient infrastructure and cooperation between the transmission network managers.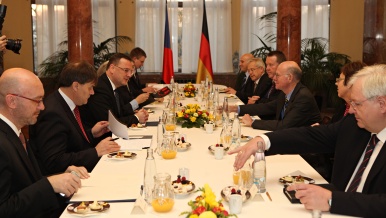 Prime Minister: Germans kept informed of work on the completion of Temelín
The Czech Republic has a keen interest in ensuring that the both the Federal Government and the German public are kept as informed as possible about events in connection with the completion of Temelín nuclear power plant, said Prime Minister Petr Nečas. He observed that it was important for the German public to have the guarantee that its interests were being taken into account.
In this respect, Prime Minister Nečas expressed his pleasure that Chancellor Merkel had accepted for a public debate to be held in Germany on the construction of new units. This extraordinary step was completely above and beyond all the Czech Republic's international obligations. A discussion took place on the 12 June 2012 in Passau. German citizens had the opportunity to ask Czech experts questions and share their views on nuclear power.
Germany is the Czech Republic's largest trading partner. Since the early 1990s (apart from the economic crisis in 2009), bilateral trade has registered steady growth. One third of Czech exports are destined for Germany. In 2011, total mutual turnover was almost EUR 66 billion; for the period from January to July 2012 it was nearly EUR 39 billion.

Selection from photo gallery
---