Press Advisories
16. 6. 2013 20:37
Cooperation with Japan can spur economic growth
In a statement made after a meeting with the Japanese prime minister following a V4 summit in Warsaw, Premier Petr Nečas said that a free trade agreement between the European Union and Japan can result in growth of gross domestic product.


"The Czech Republic is strongly in favour of a free trade agreement between Japan and the EU in view of its high potential. The signing of the agreement alone would translate into a GDP rise by as much as 0.8%," said the Czech prime minister.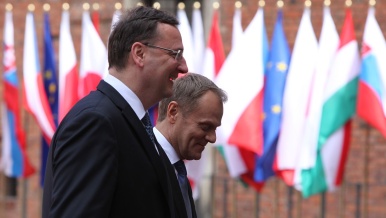 Apart from political issues, economic cooperation was the main topic of today's meeting. The prime ministers focused on discussing ways of promoting cooperation on trade and investments, which is exceptionally important during the current period of economic stagnation.
Japan considers Visegrad countries to have high potential
"V4 countries have a high potential for Japanese investments. We are an area with favourable prospects for future development, and economic cooperation between the V4 and Japan can have a positive effect on our region and its economic growth," added the prime minister.
According to Premier Nečas, Japan is one of the biggest foreign investors in the Czech Republic, and Japanese companies account for a significant share of employment opportunities on the Czech market. "As many as 237 Japanese corporations conduct business in the Czech Republic; 94 of them are manufacturing firms. To date, these businesses have invested some USD 3.1 billion and created about 45 thousand jobs. We want to build on the success of our cooperation up to now," explained the prime minister.
From the viewpoint of the Czech Republic, the Visegrad Four, and Europe as a whole, Japan is an important partner as regards science, research and development, and use of modern technologies. For instance, the Czech Republic and Japan have a productive partnership in the area of information technologies. Other high-potential areas include the space industry and environmental protection.
Today's conference, which was attended by the Prime Minister of Japan, Shinz? Abe, was the high point of Poland's V4 presidency. "I appreciate highly the opportunity this meeting provided to V4 countries to meet the Japanese prime minister," concluded the Czech premier.
Czech products with high value are making their way to the Japanese market
Prime Minister Petr Nečas met his Japanese counterpart Shinz? Abe for a bilateral meeting. "We discussed Japanese investments. I informed him of our new investment incentives law that came into effect last year and offers significant advantages for high value added sectors. We also spoke about cooperation on research and development and technological innovations," said Nečas.
"Besides traditional sectors, such as mechanical engineering and the manufacture of machine tools, pumps, and glass products, Czech firms that offer products with high value added are making their way to the Japanese market, such as companies specializing in information technologies and nanotechnologies. That is a very positive development," added the Czech prime minister.