Media Centre
The Media Center is available to all who want to find more information on the activities of the government and the prime minister firsthand.
More…
Press Advisories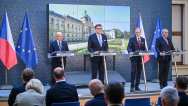 23. 11. 2023
The Czech Republic has taken another crucial step towards ensuring sufficient gas supplies for the future and replacing supplies from Russia. In cooperation with the government, ČEZ Group has contracted long-term annual capacity of 2 billion cubic metres at one of the onshore LNG terminals in Germany. This represents an investment in the further development of the Czech energy sector, and strengthens the energy security of the Czech Republic. The Stade terminal will be located near Hamburg at the mouth of the Elbe River on the North Sea and will be commissioned by its operator, Hanseatic Energy Hub, in mid-2027. The government is thus fulfilling its policy statement, in which it committed itself to seeking a stake in an LNG terminal in a neighbouring country.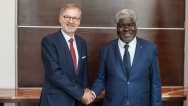 10. 11. 2023
The Czech Prime Minister Petr Fiala concluded his successful week-long tour to sub-Saharan Africa on 10 November in Ivory Coast. In Abidjan, he met his counterpart, Prime Minister Robert Beugré Mambé and other members of the Ivorian government, followed by Vice President Tiemoko Meyliet Koné. During the one-day programme, he supported Czech entrepreneurs at a business forum and also visited the Treichville Hospital, which is equipped with Czech medical equipment.
Prime Minister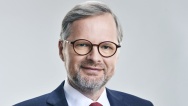 Speeches