EUSDR v České republice
2. 12. 2016 10:19
EUSDR in the Czech Republic
The Czech Republic is actively involved in the EU Strategy for the Danube Region since its official launch in July 2011. The national coordinator of the Danube Strategy in the Czech Republic is the Section for European Affairs of the Government Office. Together with Hungary, the Czech Republic coordinates a Priority Area 2 (PA2) – "To encourage more sustainable energy". The administrator of coordination PA2 is also Section for European Affairs of the Government Office. Individual ministries are responsible for the other priority areas where the Czech Republic participates. The Czech Republic is the most active in the following areas: energy, environment, culture and tourism, knowledge society and security.


The implementation of the Strategy is based on Action plan that covers 4 pillars with 11 priority areas: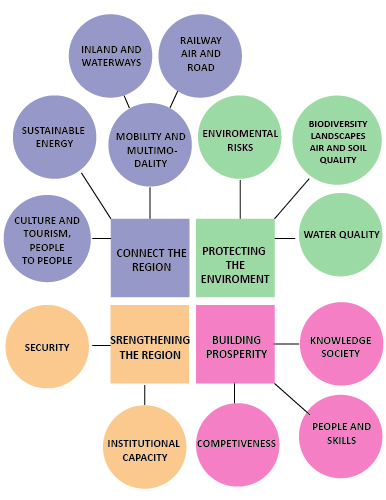 The Strategy encourages an integrated approach. For example, whilst improving transport infrastructure has a positive impact on the business environment, on the attractiveness of cities and regions or on the mobility of citizens, it can also have negative impacts on landscapes, biodiversity, quality of air, soil and water. Therefore it is necessary for every priority area to consider different policies and cooperate with other relevant priority areas.
See infographics related to individual pillars:
1st Pillar Connecting The Danube Region
2nd Pillar Protecting The Enviroment In Danube Region
3rd Pillar Building Prosperity In The Danube Region
4th Pillar Strenghtening The Region
The objectives of this priority area coordinated both by Czech Republic and Hungary are:
PA2 coordinates regional energy policies in various areas in order to exploit the full potential of an integrated energy market. It is also crucial for the integration of energy markets in countries outside the EU and it supports the implementation of the EU aims in the field of energy
At the same time, this area committed to deal with the advanced technologies that increase energy efficiency in the region and to increase the utilization of renewable energy sources.
This "triple" approach is reflected in several initiatives, many of which have already been completed, while some are currently in progress.
Other objectives of this Priority area are:
Promoting cooperation with international and macro-regional initiatives such as the Carpathian Convention, the Energy Community and the International Commission for the Protection of the Danube River (ICPDR )
Support implementation of the 2030 climate and energy targets at the national level
Removal of barriers in the energy market (market integration, physical connection, etc.)