News
1. 6. 2012 17:42
Support for less-developed regions of the EU should not be cut
It is necessary to maintain the amount of financial resources for the less developed EU regions since these resources stimulate growth. Such a conclusion evolved from today´s meeting of the Friends of Cohesion group in Bucharest, which was attended by the Czech Prime Minister Petr Nečas.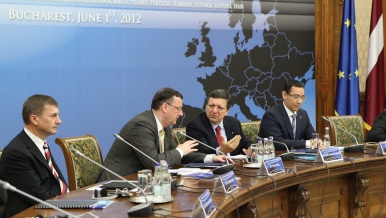 Participants of the meeting agreed that the EU Cohesion Policy has a significant potential for growth-enhancing investments, which has to be preserved. At the same time, members of the group are convinced that these funds should be spent more efficiently and should be used for targets contributing to growth and employment.
Prime Minister Petr Nečas supported ideas involved in the Friends of Cohesion joint statement. The Czech Republic simultaneously emphasized the fact that all pro-growth activities must respect rules of fiscal discipline.
The Friends of Cohesion summit in Bucharest was attended by high representatives of sixteen Member States of European Union and the President of the European Commission Jose Barroso as well. Prime Minister Petr Nečas also met the Prime Minister of Romania Victor Pontus.