News
24. 5. 2012 22:48
Prime Ministers of the Czech Republic and Italy: there is no economic growth without fiscal discipline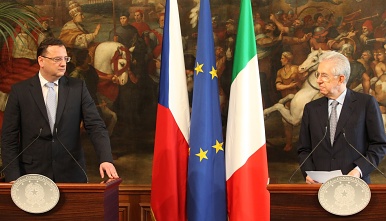 During the meeting in Rome, both Prime Ministers emphasized that relations between the Czech Republic and Italy are excellent. Bilateral trade is on the increase and has reached a record level, surpassing pre-crisis volumes. The Prime Ministers also exchanged experiences with the reforms implemented in order to consolidate public budgets and support economic growth.
Prime Ministers jointly stated that growth oriented measures may be a key prerequisite for long-term prosperity – but they must be based on solid foundations, namely on stable public finances.
Petr Necas confirmed that the completion of the EU internal market presents a crucial potential for enhancing growth. His opinion was clearly supported by Mario Monti, who is a former European Commissioner for Internal Market and Competition.
Both Prime Ministers also agreed on the necessity of a pro-growth focus of the future multi-annual financial framework for the years 2014 – 2020. In this respect, a substantial reform of the Common Agricultural Policy should take place as one of the proposed measures, enabling shifting resources to more innovative areas, contributing to stronger competitiveness and growth. A strong and efficient Cohesion Policy oriented primarily on convergence regions represents one such example.