Zbyněk Stanjura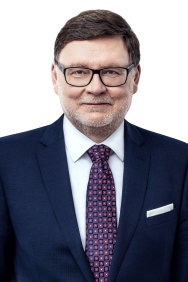 Minister of Finance
Zbyněk Stanjura was born in Opava, where he graduated from the local grammar school (today Mendel's). He continued his studies at the Faculty of Electrical Engineering, Brno University of Technology, where he completed a course in electronic computers.
After the fall of Communism he started a company with several off his classmates, where he worked as a programmer and manager for 11 years.
Interest in the town of his birth led him to communal politics. For 17 years he was an Opava representative, led ODS in the communal elections four times, won three of these elections and was mayor of Opava for eight years.
He was elected as Moravian–Silesian Region representative three times and worked there for a total of 11 years, 8 years as a councilor and 10 years as the chairman of the ODS regional group.
His applied this experience in the Chamber of Deputies, to which he was first elected in 2010. A year later he became chair of the ODS parliamentary group. From December 2012 until August 2013 he was Minister of Transport.
In 2013, 2017 and 2021 he defended his parliamentary seat and since November 2013 he has been once more chair of the ODS parliamentary group.
In January 2020 he was elected 1st vice-chairman of ODS.
Zbyněk Stanjura is married without children. He speaks English. He likes to relax through travel, reading and sports, you can meet him on his inline-skates, bike or out walking.
Personal Details
Ing. Zbyněk Stanjura, born 15 February 1964
Education
1982–1987: Faculty of Electrical Engineering, Brno University of Technology, field of electronic computers
1978–1982: Opava Grammar School
Career and Public Service
since 2011: Chairman of ODS parliamentary group
since 2010: Member of Parliament of the Czech Republic
2012–2013: Czech Minister of Transport
2002–2010: Mayor of Statutory City Opava
2000–2008: Member of Moravian–Silesian Region council
2000–2011: Representative of Moravian–Silesian Region
1998–2010: Councillor of Statutory City Opava
1997–2014: Municipal representative of Statutory City Opava
1996–2002: ESKON a.s., manager
1992–1996: ESKON s.r.o., programmer
1988–1992: Agroprojekt Opava, programmer