Vít Rakušan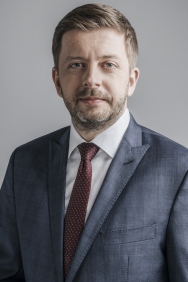 1st Deputy Prime Minister and Minister of the Interior
Vít Rakušan was born in Kolín. After graduating from grammar school he studied history and German language at the University of South Bohemia in České Budějovice. After completing his studies he worked as a teacher at the Jiří Orten Grammar School in Kutná Hora, teaching history, German language and politology. In 2010 he was elected mayor of Kolín and held this position until 2019. After being elected Chairman of the Mayors movement, he stepped down from his mayoral position. In 2016 he was listed in the New Europe 100 — changemakers in Central and Eastern Europe, announced by the prestigious English-language international daily, the Financial Times.
As mayor of the city, he succeeded in stabilising the financial and debt services of Kolín, under his guidance the municipal debt fell from CZK 950 to 470 million. He ensured systematic support for cultural and social events in Kolín, started the registry of municipal contracts and the "clickable" budget. Kolín became a more open and welcoming town to its citizens. He was the author of the project Safe Kolín, for this in 2016 the town gained a prestigious prize for the best preventative project in the area of security at the local level.
He spent a year as Statutory Deputy Governor of the Central Bohemian Region for the areas of security and tourism; this position ended when he was elected Member of Parliament of the Czech Republic. During 2017–2021 he worked in the Committee on Security and Committee on Foreign Affairs of the Chamber of Deputies of the Parliament of the Czech Republic. He was also the chairman of the Standing Committee for the Supervision of Military Intelligence.
Vít Rakušan is married and has three children. He speaks fluent German and English.
Personal Details
Mgr. Bc. Vít Rakušan , born 16 June 1978
Education
1996–2002: Faculty of Education, University of South Bohemia, History and German studies
2001: Faculty of Philosophy, University of Augsburg, Scholarship stay
2006–2009: Faculty of Education, Charles University, School management
Career and Public Service
2001–2020: Teacher at the Jiří Orten Grammar School in Kutná Hora
2010–2019: Mayor of Kolín
2012–2021: Representative for the Central Bohemian Region
2016–2017: Statutory Deputy Governor for Road Transport
2017–2021: Member of the Committee on Security of the Chamber of Deputies of the Parliament of the Czech Republic, Member of the Committee on Foreign Affairs of the Chamber of Deputies of the Parliament of the Czech Republic, Chairman of Standing Committee for the Supervision of Military Intelligence
since 2017: Member of Parliament of the Czech Republic
since 2019: Chairman of the Mayors and Independents movement