Robert Pelikán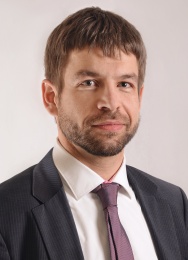 From 1 March 2015, Minister of Justice, from 5 December 2017 in resignation.
Personal details
JUDr. Robert Pelikán, Ph.D. was born on18. října 1979.
Education
Robert Pelikán graduated from the Faculty of Law of the Charles University in Prague.
From 2003 until 2008 he was a Junior Associate and afterwards an Attorney, at first in the Císař, Češka, Smutný and Co. law firm, later in the Linklaters international law firm
In 2008 he co-founded and until 2014 he acted as a Partner in the Vrána & Pelikán law firm. He completed a six-month-long professional internship at the General Court of the European Union in Luxembourg.
He passed the Bar exam in 2007, however after entering the public administration he had to have his practice of law suspended and he sold his share in Vrána & Pelikán.
Professional aktivity
As an attorney he represented a number of major domestic and international companies, but also for example a family of a boy who was seriously injured by an escalator in the Prague subway in 2009, or the city of Karlovy Vary in a dispute with a group of companies over the ownership of the Karlovy Vary Arena, the sports and cultural center or Mr. Richard Frištenský (a son of a legendary Czech wrestler), falsely accused of attacking a municipal police officer.
Robert Pelikán has always concentrated on civil and commercial law, particularly corporate, contract and competition law and dispute resolution.
He has been an Associate of the Department of Civil Rights of the Faculty of Law of the Charles University since 2004 and since 2012 he also lectures and leads tutorials at the Department of Commercial Law of the Faculty of Law of the Charles University.
He regularly publishes articles in professional journals, teaches and performs at professional´s conferences.
He is an author of a two-part commentary on the Act on Transformations (Zákon o přeměnách obchodních společností a družstev, § 1-179 / 1. díl a §180-389 /2. díl, Leges, 2010), of a monography on the issues of legal personality (Právní subjektivita, Wolters Kluwer, 2012) and also is a co-author of commentaries on the new Civil Code (Občanský zákoník - Komentář - Svazek 1,6 V: relativní majetková práva 1. část, Wolters Kluwer, 2014).
After the 2014 elections he joined the Ministry of Finance as a Director of its Legal Section and since 3 June 2014 he has been the First Deputy Minister of Justice.
After the resignation of Mrs Helena Válková, Mr. Pelikán was on 12 March 2015 appointed the fifteenth Minister of Justice of the Czech Republic.