Press Advisories
1. 11. 2021 17:09
Andrej Babiš: It is absolutely crucial for individual states to choose their own energy mix to achieve carbon neutrality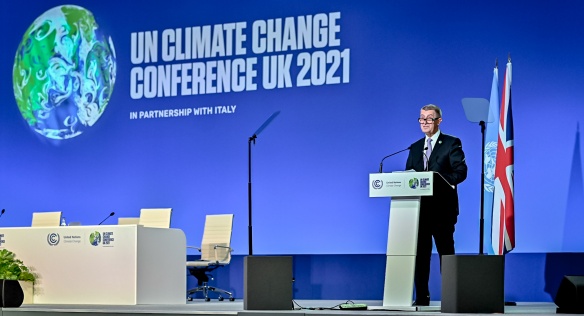 Prime Minister Andrej Babiš is representing the Czech Republic on November 1st 2021 at COP 26, a key international climate change conference which is taking place in Glasgow.


Mr. President, Excellencies, Ladies and Gentlemen.
In recent years, the protection of the environment has been replaced by the fight against climate change. The European Union strives to achieve zero emissions by 2050, as envisioned by its Green Deal. However the 13 legislative proposals called "Fit for 55" go far beyond what the E.U. has adopted and agreed.
Yet only the E.U., which produces approximately 9 percent of global CO2 emissions, wants to take drastic action to curb its carbon footprint. However, the E.U. can achieve nothing without the participation of the largest polluters such as China or the U.S.A. that are responsible for 27 and 15 percent, respectively, of global CO2 emissions.
Despite these facts, the European Commission continues to propose dangerous policies such as the ban on combustible engines in 2035, or carbon allowances for transport and individual housing. Due to improper legislature and speculation, the price of emission allowances has gone out of control, resulting in the surging costs of electricity. As a result, and in connection with rapidly rising prices of natural gas, mostly caused by power games between states, many Europeans could be threatened by energy poverty.
Instead of negotiating long-term contracts with Russia, European politicians are busy blocking the transit capacity of the Nord Stream 2 and Opal pipelines citing worries that the E.U. will become dependent on Russia. Ladies and gentlemen, this might seem like news to you, but we already are dependent on Russian natural gas and will be for at least another 20 to 30 years. Frankly, there is no other way, as the E.U. annually needs 400 billion cubic metres of natural gas, but produces a mere 50 billion.
The "Fit for 55" proposals pay no heed to the conditions and dispositions of individual member states, or the ratio of industry to GDP. The European Commission provides no assessment of their impact, no opposing views. We do not know, if the goals aren't too ambitious. We have no idea how much will this transformation cost, and whether we can afford it. This is not a deal, but an ideology. Without answers to these questions, the Green Deal will become the European Green Suicide.
It is absolutely crucial for individual states to choose their own energy mix to achieve carbon neutrality. The Czech Republic cannot rely on renewable energy alone, our landscape and climatic conditions simply do not permit this. For the Czech Republic nuclear power and natural gas are the only possible means of achieving zero CO2 emissions. Especially nuclear energy is a clean, safe, reliable and affordable power-source, and the E.U. member states and the European Commission should acknowledge this.
The Green Deal could come at huge social, economic, political and geopolitical costs. Costs which could create enormous tensions in society and between allies, open doors to radicals, and threaten our democracy. The Green Deal could be responsible for the loss of competitiveness of the E.U., the impoverishment of families, for rising unemployment, astronomical energy prices, the disintegration of industry and, in the end, the destruction of the environment it seeks to protect.
The Green Deal simply wants too much, too soon and at any cost. Given the current market situation, rising prices of energy and commodities, the disruption in supply chains and shortage of goods, I believe it is necessary to set a realistic strategy for the implementation of the Green Deal – we must calculate the costs, assess the impacts, set individual targets, and provide E.U. member states with maximum flexibility.
The timing of this conference couldn't have come at a better time. Recent developments provide us with an urgent wake-up call to start approaching green policies without ideology, critically and rationally, and to promote changes gradually and in such a way which is economically, politically and socially sustainable.
Thank you for your attention.
Andrej Babiš, Prime Minister