Petr Arenberger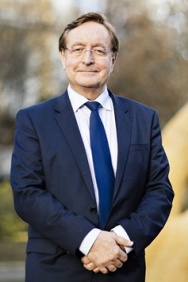 Minister of Health from April 7, 2021 to May 25, 2021.
prof. MUDr. Petr Arenberger, DrSc., MBA (born 4 December 1958 Prague) is a Czech physician specialised in dermatology and venereology, a university teacher, and since 2001 the head of the Dermatovenereology Clinic at the 3rd Medical Faculty of Charles University and Vinohrady University Hospital, as well as the Vice Chair of the Jan Evangelista Purkyně Czech Medical Association and chair of its Czech Dermatovenereology Society for the 2015–2019 term.
Since May 2018 he has also been a member of the Czech Radio Council. In October 2019 he became the director of the Vinohrady University Hospital.
Professional life
Dr Arenberger graduated from the Faculty of Paediatrics at Charles University in Prague. He worked at the Dermatology Clinic of the University Hospital in Prague 2, followed by the Dermatovenereology Clinic of the 3rd Medical Faculty of Charles University and Vinohrady University Hospital, which he has also headed since 2001.
He acquired his first attestation in dermatovenereology in 1987, his second in 1990. He habilitated at the 3rd Medical Faculty of Charles University in 1992 (thesis: Keratinocyte receptors for I2(S) – hydroxyeicosatetraenoic acid and the defect thereof in psoriasis vulgaris, associate professor). He was named a professor in the field of dermatovenereology at Charles University in 2001 (inaugural lecture: Receptors for skin mediators). Five years later he acquired the title of Master of Business Administration.
He focuses on the effect of exogenous factors in relation to changes at the receptor level. He discovered a receptor defect in the cutaneous inflammatory mediator – 12 (S) hydroxyeicosatetraenoic acid on the keratinocytes of psoriatic patients. He was the first to identify the existence of the cytokine RANTES in the skin.
At the Dermatovenereology Clinic he founded the Healthy Hair Centre, which is the only outpatient counselling centre of its type focused on hair disease in the Czech Republic. He is the spiritual father of the Czech preventive drive "Tent Against Melanoma".
He worked two years at the University of Munich (1989–1991) and completed an exchange at Stanford University in Palo Alto (1992–1993). In March 2017 he decided to run for a spot on the Czech Radio Council, but the election in June 2017 was never completed. He was only appointed to the Council after the Chamber of Deputies vote in May 2018, where he received 150 votes of the 182 deputies present.
Private life
He is married to dermatologist and associate professor Monika Arenbergová, a finalist of Miss Czechoslovakia 1989. They have two daughters, Simona and Nicol.