Marie Benešová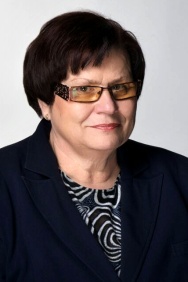 Minister of Justice, from 11 November 2021 in resignation.
Personal Details
Marie Benešová was born on 17 April 1948 into a family of a technical officer. Both her parents worked in the construction industry. She is married, her husband is a retired physician and she has one adult son who is a lawyer.
Education
After nine years of elementary education she graduated from a secondary comprehensive school in June 1966. She was admitted to the Faculty of Law of the Charles University in Prague and she graduated in 1971.
Professional and Public Activities
In 1971 she started her career as a legal trainee at the district prosecutor´s office in Kladno. After less than two years she passed judiciary exams and she was appointed a prosecutor at the district prosecutor´s office in Kladno. She worked there until 1991 and she was dealing with diverse agendas from general crime to specialization in crime in transportation.
In 1991 she was invited to join the Prosecution General's Office of the Czech Republic as an intern because after 1989 many prosecutors employed by the Office had to leave their posts due to their political history and the Prosecution General's Office looked particularly for people with necessary professional experience who were not members of the Communist Party. Marie Benešová met both those requirements because she was never a member of the Communist Party and she had twenty years of practical experience. After her internship she became a prosecutor in the Prosecution General's Office and she specialized in youth crime and criminal acts against children and youth. She continued to work in the General Prosecutor´s Office until 1993 when the Office was transformed into the Public Prosecutor´s Office. After establishment of the High Prosecuting Attorney's Office in Prague she started working in the newly created unit of the public prosecution system as a head of the general crime department until 1995.
In April 1996 she resigned her office and she opened a private practice in Kladno where she worked until the end of 1998.
From January 1999 to September 2005 she served as the Attorney General in Brno.
After being recalled from the office, Marie Benešová returned to her legal practice. Initially she worked for the law firm AK Císař Češka Smutný in Prague and later she and her colleagues founded a limited liability company (s. r. o.) Benešová Beránek Blaha.
She had previously served as a Minister of Justice from July 2013 to January 2014 in the government led by Jiří Rusnok.