Jan Lipavský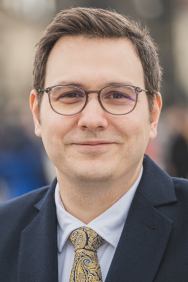 Minister of Foreign Affairs
Jan Lipavský was born in Prague, where he studied at grammar school. He went on to graduate with a degree in International Territorial Studies from the Institute of International Studies at the Faculty of Social Sciences, Charles University; he also spent a year at the University of Kent in the United Kingdom.
He has focused on foreign, defence and security policy in the Pirate Party since 2015. He spent four years in the Chamber of Deputies as vice-chair of the Committee on Foreign Affairs and the Committee on Defence. He was also a member of the Standing Committee on Hybrid Threats, the Subcommittee on Defence, Cyber and Security Policy and Strategic Concepts of the Czech Republic and the Subcommittee on Migration and Asylum Policy. He specialises primarily in matters of energy and international security and hybrid threats.
Before entering politics he pursued a career in the private sector in the field of information technologies in banking, working for companies such as McKinsey & Company, Euro RSCG, ZOOT, Total Solutions and Moro Systems.
He has a seven-year-old daughter. He speaks fluent English and German at upper-intermediate level.
Personal Details
Bc. Jan Lipavský, born 2 July 1985
Education
2007–2008: University of Kent, United Kingdom, year-long course in International Relations
2004–2010: Institute of International Studies at the Faculty of Social Sciences, Charles University, International Territorial Studies (bachelor's degree)
2005: Prague Institute of Security Studies
Career and Public Service
2017–2021: Member of the Parliament of the Czech Republic
2017–2021: Vice-Chair of the Chamber of Deputies Committee on Foreign Affairs and the Committee on Defence
2011–2017: ICT Manager and Analyst, specialising in banking and the capital markets, Total Solutions
2010–2011: ICT Product and Project Manager, ZOOT
2008–2009: Marketing Specialist, Euro RSCG
2005–2006: Visual Assistant, McKinsey & Company