Anna Hubáčková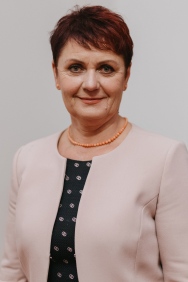 Minister for the Environment from December 17, 2021 to October 31, 2022.
Anna Hubáčková was born on 6 September 1957 in Hodonín. She lives in Ratíškovice. She has devoted her life to protecting sources of drinking water. Initially she was involved in marking out hygiene protection zones, and later also dealt with water management and the elimination of environmental burdens in those zones. She then went on to study law, graduating with a degree in public administration from Masaryk University in Brno.
She later drew on her environmental expertise as head of the Department of the Environment of the South Moravian Region. While holding this office she was a member of task forces, the chair of flood commissions and helped to deal with the major floods that occurred in 1997, 2002 and 2006, always in close cooperation with Slovakia and Austria. In 2014–2018 she was the mayor of the municipality of Ratíškovice and has been a senator representing the Hodonín region since 2016. Her work and collaboration with non-governmental organisations won her the Minister of the Environment Award in 2005.
She is married, has two grown-up sons and three grandchildren. She is a member of the Ratíškovice volunteer fire brigade, Old Skaut Ratíškovice and the volleyball club in Ratíškovice, where she has coached youngsters for many years.
Personal Details
Ing. Bc. Anna Hubáčková, born 6 September 1957
Education
1976–1981: Hodonín Grammar School
1981–1986: Brno University of Technology, Faculty of Civil Engineering, Department of Water Management
1992–1995: Masaryk University in Brno, Faculty of Law, Public Administration
Career and Public Service
1981–1988: Vodovody a kanalizace Hodonín, Water Sources Protection Officer
1988–1992: District National Committee, Hodonín District Authority, Department of the Environment – officer
1993–1999: Hodonín District Authority, Head of Department of the Environment
2000–2001: Vodovody a kanalizace Hodonín, Construction Manager
2001–2014: South Moravian Region, Head of Department of the Environment
2014–2018: Municipality of Ratíškovice, Mayor
since 2016: Senate of the Parliament of the Czech Republic, Senator, independent for KDU-ČSL
since 2018: Vice-Chair of the Constitutional and Legal Committee of the Senate of the Parliament of the Czech Republic